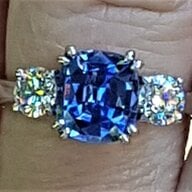 Joined

Apr 5, 2012
Messages

986
I have the first round of CADs for my EC halo setting. Here is my stone:
I want the finished ring to have the proportions of this ring: (size of halo relative to size of centre stone)
And I think the halo diamonds slope lightly away and downwards from the centre stone in the above ring, which I have asked for as a feature of my ring. I thought that if the diamonds were angled away from the centre stone a little, then more of their tint might be visible (I color melee) which might make less of a color contrast with my J centre stone. Am I correct here or will this make no difference?
But I want the design features of the ring to be like this one (ie centre stone in double prongs, diamonds brightset, and visible but slender line of gold around the outside of the halo and framing the diamonds in the shank):
So here is the CAD:
The ring is being made by a jeweller I have used before several times (outside of the US) who does lovely work and in the past has met my expectations and interpreted my drawings or inspiration pictures very well.
My concerns are:
1) Is the finished width of the halo (2mm edge to edge) too large for my centre stone considering the proportions I am trying to achieve (As in 1st ring pic above)
2) Should the diamonds be closer together (so needing more of them) in order to get the look of a continued line of diamonds rather than lots of metal between the diamonds?
3) Bearing in mind that my stone measures 5.5 x 6.5mm approx, what size melee should I be asking for in order to ensure that the halo doesnt overpower the centre stone?
4) The halo diamonds dont look slanted very much to me in the CAD, should I ask for a greater slant or will it make very little difference to the color look of the halo diamonds? I am trying to avoid a situation where the halo makes the centre stone look very tinted in comparison
5)I always wanted a halo EC ring but never expected to buy a J stone - I thought I would go for G/H in which case the halo would not look too much whiter than the centre stone (allowing for the more brilliant look of the halo diamonds RB cut). I love my J stone, but should I scrap the idea of a halo altogther and go for I/J tapered baguettes instead as a way of "neutralising" possible color clash concerns?