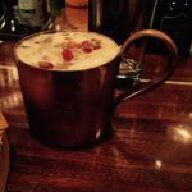 Joined

Jun 27, 2007
Messages

237
Hi everyone. Was hoping the lovely members of Pricescope could provide some setting suggestions help.
Background: I have been casually searching for my perfect pink tourmaline for over a year. I spoke to many of the gem cutters recommended on here and actually purchased a few stones but none of them had the exact color or liveliness that I was after. I originally wanted an emerald or an asscher but wasn't set on the shape. In a weird but wonderful series of circumstances, I had the pleasure of meeting a gentleman named Joel Arem. Joel is a lifelong gem cutter and dealer, has published many books and teachings on gems, and worked in the Smithsonian for many years. While finding him online, it ended up he lives not even 10 minutes from me, and we met at a coffee shop chatting about gems and looking through his amazing collection. He showed me a stone and thought I never wanted a round brilliant, this stone "spoke" to me and I had to have it.
The stone: Beautiful pink tourmaline from Mozambique cut by Elvis Buzz Grey in 1972. It's a perfectly cut round brilliant that is 4.4 carats and 10.5 mm in diameter. I am attaching photos but believe me, they do not do the stone justice.
So now I am on the search for a setting. I definitely want a bezel and I am torn on whether I want a halo or not. The stone is rather large, so I don't want anything that will be huge on my hand (I am a size 5.) I was originally looking at Sally's Grace or Iolita settings, but to be honest, I just don't have the courage to ship this rare stone to Thailand. I then was thinking about a small but delicate floral halo, to the likes of Greenlake Jewelry or SingleStone.
What is your favorite bezel/halo setting that you think would showcase this stone best. Oh, and it will be a right hand ring.
Thanks everyone!