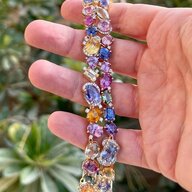 Joined

Oct 1, 2015
Messages

670
Hello all.
I'm after some thoughts on what to do with this sapphire. It's an unheated Ceylon teal colour, nice cut, but so dark it blacks out in every light except direct sun. It was a poor purchase and I was planning to exchange it for something I liked better when I next visit Sri Lanka and see the guy I bought it from.
But I've been wondering if perhaps I can salvage something from this and perhaps set it with a couple of the bluish green tourmaline asschers I have lying around to wear as a RHR with my half eternity.
Is it worth setting? If so should I go for the lighter or darker side stones? The lighter ones match the eternity but I think the darker ones complement the sapphire more.
And if I do set it, any thoughts on style? I was going to go with a simple white gold in a similar style to my half eternity because I feel the sapphire doesn't "deserve" diamonds lavished on it.
Any ideas welcome.