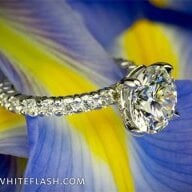 Joined

Jan 30, 2007
Messages

807
Hi everyone,

I could use some PS help.
About a year and a half ago my mom saw an inexpensive WG heart shaped pendant with 3 pink sapphire flowers clustered together in the center. She loved it and I told her that my brother and I would pick it up for her at some point and then I promptly forgot about it. I''m not a bad daughter I promise!

We are Canadian so this was at a chain BM store called Peoples Jewelers they are owned by the Zales company. It was either $200 or $249.
I finally remembered it and decided to get it for Mom for Valentines day and now I find out it has been discontinued and without a SKU or stock number none of the stores I called would help me by trying to track it down.

Any ideas of what I can do at this point?
Anywhere I can look that I am not thinking of?
I have tried ebay but I may be searching incorrectly as nothing comes up.

I''d really appreciate any help or advice
Any Canadian too who might have some info pls chime in...I feel really bad that I didn''t get it for her at the time....