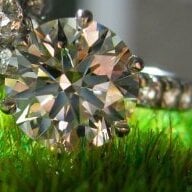 Joined

Nov 21, 2006
Messages

2,481
I''ve been searching for a thread relevant to my ''issue'' but cannot find...maybe you can help.
I have a cushion, my FI gave to me (before I discovered PS) and although I love it, and love that he picked it for me, there is something about the stone I''m not crazy about.
It''s 1Ct, F colour, VSI (eye clean),...but there were no % specs on the Gemologist Insurance Certification?! So without those specs, I''m lost.
So my ''issue'' is that when I tilt the diamond on a slight angle, I see a "shadow" or a dark patch (not like an inclusion, more like no light reflection, or a dead patch).
What is this called? and what is it caused from?