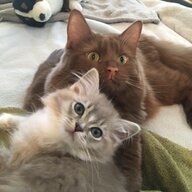 Joined

Jul 12, 2015
Messages

1,075
I have a crazy question but would greatly welcome opinions. I am in the process of updating my wedding set and I ended up going with the Novela setting from
BGD
. I absolutely LOVE the setting, but I decided to order a full eternity version of the Novela band as it spins a lot and the lack of uniformity will bug me over time. The engagement ring features .02 melee stones and I love the delicate look of this especially as a contrast to the center stone (1.7 round). The wedding band also features .02 melee stones, but for some reason its width is slightly thinner than the engagement ring (2.1 mm for the engagement band and 2 mm for the wedding band). I am toying with the idea of having the wedding band made with .025 stones rather than .02, a very slight difference, but one that may make the two bands more comparable in width. I don't want to have a discernible difference between the bands but I wouldn't mind giving the wedding band a bit more "backbone" as it is hardly noticeable next to the engagement ring. I think that .03 stones would be too much of a difference but .025 may be the sweet spot.
Just for reference, here is a link to the Novela engagement setting:
http://www.briangavindiamonds.com/engagement-rings/pave-and-side-stones/novela-platinum-5372p
and matching band:
http://www.briangavindiamonds.com/w...ity-bands/novela-matching-band-platinum-5480p
My question is, will it look strange having .025 stones in the wedding band and .02 stones in the engagement band? Should I just stick with the exact same size melee so the stones will line up more, or bump it up slightly so that the wedding band has more of a presence? It seems like a trivial difference but I just don't want to end up with regrets. All thoughts and opinions are welcome!!