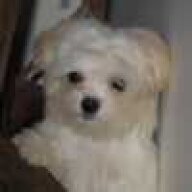 Joined

Nov 7, 2008
Messages

180
Hi Everyone! I haven''t posted in a while about my search for a sapphire e-ring. We finally went to the Diamond District in NYC. Went to Elize Diamonds/Roman Malokov (the two stores are connected). They had found a heated sapphire for me from their vault after showing me about 10 stones (heated and nonheated). I called my FF who rushed over after his day-long business convention/conference at the Javits Convention Center. Before I knew it, I was asked to step out of the store and my FF said, "you have an engagement ring". After the elation and the drive back to the DC area, I innocently asked if the ring were platinum (they were having it custom-made). Unfortunately, the receipt stated white gold.

FF is now trying to cancel the order as it would cost $200-300 more for platinum. We''re not novices in purchasing as we''ve been at it for 5 months trying to find the right sapphire. I think my FF was just tired and the price was several thousand under his budget. The quality of the store''s work was quite good, but now he''s very uncomfortable with this rapid purchase and would like a more detailed sales slip for the purchase (they didn''t even specify the quality of the diamonds as they should). The sales slip does say "All Sales Final", but the company has not yet processed the sale to the credit card (we''ve already called them)

We just wrote an email to the company stating that we would still like to purchase from them, but would like more details to the sales agreement and we would be back in a few months. We even said we''d like to purchase the wedding bands and other things from them as they were actually recommended by a friend who are long-term customers.

I''m feeling quesy about this as I think FF felt pressure to buy it, because he wanted me to feel happy, and quite frankly, I''m not happy at this wham-bam purchase and then to find out we had sketchy details on what the ring would be and then to find out it would not be in platinum. What would you have done?