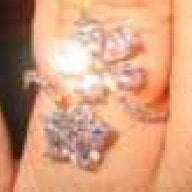 Joined

Jul 18, 2002
Messages

139
Today I went to pick up my heart diamond (3.67) in my new verragio setting. What a disappointment. The head of the ring is quite large and the prongs quite thick I guess because of the size of the stone and it being a heart, well... when I looked at the prongs, one had a big gouge that wasn''t polished and the other ones had wads of metal particles from where they jewler cut out the platnium to set the stone. I could see it with a naked eye because the prongs are substantial, but when I told the jewler to buff it out they told me that couldn''t (it was under the diamond not on top of the prongs) they told me they would 90% nick my diamond polishing it and handed it back to me. I told them, I''m really not a picky person, but it was really bad. He said that the only way it could be fixed was for them to remove the stone and even then they might not be able to fix it. They said a whole new head might have to be made or they have to send it back to verragio. I told them whatever they needed to do, it wasn''t acceptable. I asked why it was done so poorly and he said it was because they didn''t have my stone to make it with....I gave them all the measurements from the gia report to do it????
Anyway, they said they would try and fix it.
Does it sound right that they couldn''t fix the prongs and would have to get a whole new head for the ring? I don''t know about jewlery design, but can they add more platnium and then buff it out smooth and reset it?
They told me because the "nature of the metal" that it''s not easy to fix. It looked like little wedges were cut out of the prongs and the diamond set into that, and not the prong wrapping around the diamond...the prongs were kinda hard and pointy on top.
I left my diamond, now I''m concerned that they might nick my stone trying to polish it or something. I called them and asked them to call me back tonight and they ignored me...and they have my stone!!!!!
I''m going to call them tomorrow, they said they would need a day to fix, if it''s not right, and they can''t fix it, can I take my stone and just forget the whole process
. I say this because if this is the only in house jewler, he obviously doesn''t know how to set a heart diamond. I picked a standard verragio setting but they said it had to be custom made because of the diamond be so large and the fact it was a heart, I didn''t make any changes.
If it''s custom, would I be responsible for buying the setting even if it was horrible????
Also, could I take the stone and crazy head to another jewler and have them make a new custom head, or would I have to send it back to Verragio?: I like the setting part, just the head is all messed up now. Should I find an independant appraiser to look at the stone to make sure they didn''t chip it while trying to fix the prongs? How can I verify my diamond is ok?
Any opinions would be great as I have go see them tomorrow...
Thanks so much...