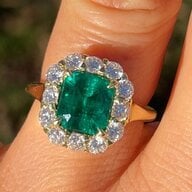 Joined

May 11, 2010
Messages

515
I am considering a particular rose pink spinel. The spinel by itself is a really pretty stone and shows off some blueish purple or lavender flashes. And I do like it a lot!

But, there is only one problem: the stone does not quite stand out against my skin. I suppose my skin is not fair enough or dark enough to make the delicate rose pink stand out; it tends to fade into my skin when the ambient light does not facilitate it to sparkle.

I do want to wear it as a ring, so are there ways to set the stone so that the color could stand out? Would bezel setting help a lot? Do I have to go with bezel setting?

Thanks a lot for your suggestions/answers.