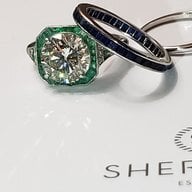 Joined

Mar 7, 2016
Messages

338
Because I'm a glutton for punishment I have 2 projects going right now. And I'm feeling awful about them both. One is not a diamond so I hope it is ok to tall about in here, this is more setting related.
1. Diamond wedding band. I picked a stuller setting didn't speak up when it was beyond uncomfortable and ended up with ring that I couldn't wear. The jeweler is letting me trade in those stones for a band I would prefer. They have done a few CADs and have a wax waiting for me to try. But now I'm going up on the cost. The original ring was .60 and a stock setting which came to about $850. When I asked for an estimate on the new band (prior to knowing I'd be ordering it sooner than later) he said $1300. Now it appears it will cost $900, which added to my "mistake" is a lot more than I want to spend. We started this journey off 3 years ago at $400. Anyhow, I assume that includes the trade in stones and I know they would need to buy more as ring 1 was 3/4 and ring 2 is eternity. Should I just stop and walk away, I may be too emotional to make a good decision? Or should I ask for 3/4 or half diamonds? Here is the recent cad.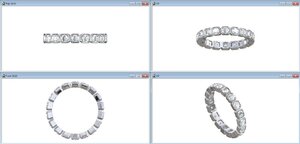 Granted I still have yet to see the wax so who knows if I even love it.
2. RHR band. It won't be diamonds but a gemstone with similar properties. The stones are 2.25mm x 2.25mm squares. And there are 7. The vendor, who has been super patient, didn't have anything in stock that would fit and i wanted something super delicate. A custom option would have required a CAD, understandable, but at twice the price of the stones for the finished setting (and with other expensive endeavors not even remotely possible). She then was able to source a channel setting. Except it think it is bulky. My original wedding band is on my right hand and it is already thick, maybe 4mm, so 3.5mm feels like a lot of metal. But I feel ungrateful and she has worked hard to find me something and it is a much better price (but still $$). Do I suck it up and take it? Should I take the loose stones and shop around? I haven't found any vendors who have unset settings for bands, do they exist? My fear is if I take loose stones I'll never get them set since I am a little leery of my current jeweler's bench for delicate. Here is the model for that setting.


I feel silly, this should be fun right? But I just feel anxious and like I am making terrible decisions and am going to end up spending a fortune on rings I hate. I know the PS voices of reason will help.
Thanks in advance.