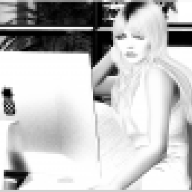 Joined

Jan 10, 2016
Messages

85
Hi Everyone,
First, I just reported myself to the admin of the site - totally posted this in the wrong area and requested it be moved. My apologies!
I'm new to this forum, but not to diamonds. I'm mostly doing a bit of brain picking. I have a couple of diamonds already under my belt due to 2 prior marriages; I joke I'm on the "Liz Taylor Plan" - not really true but it makes people laugh. Unfortunately this plan is not in size or price

I'm mostly brain picking right now and have a couple of questions; one about finding something different and the other about resetting but here's the background first.
My first E-ring was about .5 carat, nice stone - his dad was a jeweler. Hated the setting. I was never consulted as to what I like. Once the marriage broke up I reset that into a solitaire necklace, which I like a lot. It's very simple and suits my style.
E-Ring 2 was larger, approx. 1 carat. I do not remember specs - but I know it had a GIA certificate - long lost due to the divorce (he probably has it in papers somewhere but it's been nearly a decade and I'm not about to ask for it). I do remember it was a better color but did have an inclusion to the eye, which thankfully, was able to be hid with the setting. This ring I loved - round brilliant with 2 nice sized baguettes flanking it in a simple solitaire cathedral setting. Had a vintage style wedding band with some small diamonds in it which I liked as well. It metal work reminded me of an Edwardian diamond ring I inherited from my mom via my grandmother. It's quite fancy and large, so it only gets worn to special events. I also have a very nice sized pair of diamond studs set in platinum that have been complimented by everyone, everywhere including jewelers who have seen them.
So here I am on about to be engaged #3. I'm quite a bit older and wiser now (will be 57 soon) as is he. I am not into large stones, I prefer smaller, daintier diamond rings since my hands are not large, but have to admit .5 carats is looking a bit too small to me now. Ideally, something between .60 to just under 1 carat would be fine for me, but I have some concerns about finding a quality stone of that size in the price range he can currently afford since he is a full time student. Yes, 56 and in school full time! He has some money to fall back on, and sadly w I do not want to see him spend more than is affordable right now which is about $2K, including the setting.
So, since I'm the one with all the diamond knowledge I've been looking online to see what we can get for under $2K. I am not set on any particular shape at all - I find all of them beautiful in the right setting. I happened to see a lovely, simple solitaire setting with a basket weave on
James Allen
for $510 (14K white). Which would leave us with only $1500 or so to put towards the stone. I think he can go a bit higher, but certainly no more than $2K - $2500 total would be pushing it for him at this point in time. I have been doing a lot of research and have found a few round stones which are good quality (one scored very high on the Halloway, well under 2) but all are on the smaller side. I've found fancy cuts that are larger but find these difficult to gauge.
I would, however, like something entirely different than my first 2 solitaires if possible, but looking around I don't see how this is possible given our budget. I'd like to get away from round and have a different style entirely this time.
I also got the name of an very well respected local jeweler in NYC via my boss who's family has been using this person for ages (in the district, upstairs office, not ground floor) and intend to contact them. If for no other reason than to have the 2nd E-Ring reset into something wearable.
Sorry for the rambling post, like I said I'm just kind of mentally figuring things out before my partner and I start actually going anywhere or even me overwhelming him with diamonds statistics. I think he'd find it interesting to learn (he's a geeky kind of guy) but knowing him, might begin to feel that what he can afford will be inadequate. There's even part of me that would like to offer some money towards it - again, we are not young kids, and I can well afford to chip in to get something I really love. Just not sure how he'd feel about that...
Thanks in advance for bearing with this and for any guidance you may be able to provide me with.