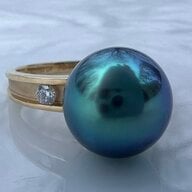 Joined

Jan 14, 2004
Messages

1,432
I am feeling quite depressed after speaking to my jeweler tonight. Recently I bought two LOGR rings, sized to fit precisely the center stones and my finger. So I called my local jeweler and asked him if he can set them for me. Well, he said, he needs to see the stone and the ring first, to determine if they fit each other or modification is needed. Although I assured him that the rings are custom ordered for the size of the stone, he said he can''t give me quotes before he sees them. Fair enough.
I went on to ask him how is tourmaline for rings? He replied that they scratch and chip easily.
What about garnet? I asked.
"They are the same.'' was his answer. He went on to say ''you know amethyst?
THEY ARE ALL THE SAME
, that''s why they are semi-precious stones. Tourmaline has a hardness of 4 to 5 and that''s why they are best suited as pendants...''
I was almost speechless, as you can imagine... I worked with him on two custom projects in the past five years, including a ring and one pendant. I also bought the mounting from his store for my red spinel ring so his work quality can be trusted. Maybe I am expecting too much color stone knowledge from a jeweler?
Any way, I need SERIOUS help to find a bench man to set my two LOGR rings (hasn''t arrived yet) I no longer feel comfortable with this jeweler. I live in Washington DC area and occasionally, I go to NYC to visit my brother. Maybe I shall spend a day in the diamond district?