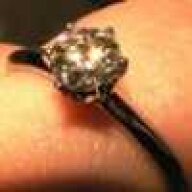 Joined

Sep 7, 2005
Messages

501
Cozze e Fagioli
(Mussels and Beans)
I pretty much made this recipe up after eating something like it in a restaurant. Buy a good baguette or some nice bread to sop up the tasty liquid after you''re done with the mussels and beans. You can adjust the proportions to more of what you like, less of what you don''t.
1 lb live mussels, scrubbed (and toss out any mussels that don''t close after you tap them or run them under cold water!)
1 med yellow onion, diced
1-2 carrots, sliced
1 large celery stalk, sliced
3-5 cloves garlic, minced (depending on taste, you could even add more)
crushed red pepper flakes to taste
1 14 oz can diced tomatoes, drained
1 14 oz can white beans, drained and rinsed
1 cup chicken broth or clam juice or vegetable broth, or combination
1 cup dry white wine
juice of one lemon
2-3 tablespoons chopped flat leaf parsley
Basically, heat a few tablespoons of olive oil in a deep stock pot. Saute onion for a few minutes until turning soft, then add carrot and celery and saute for a few minutes more. Add garlic and crushed red pepper, saute 1 minute. Add tomatoes, beans, liquids, salt & black pepper to taste and bring just to a boil. Add mussels and cover pot, cook for about 5-10 minutes, stirring or shaking pot periodically to cook evenly. When mussels open they are done--don''t overcook! Dump into a large bowl and toss in parsley. Serve hot with slices of bread.
Makes a great meal with a salad