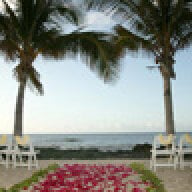 Joined

Nov 30, 2005
Messages

2,216
I''m going to my future in-laws for christmas and they''ve decided to have a pot-luck style dinner for christmas instead of the traditional dinner.

Basically everyone makes a couple of dishes, and we have to cover breakfast and lunch too. Thing is my future sil and her husband are vegetarians (dairy, eggs ok and they make exceptions for fish), and I just don''t have any special recipes that qualify! Even my beloved brussel sprouts and chesnut dish has prosciutto in it.

I really need your help here!
It doesn''t have to be fancy and in fact a request for non foo-foo food has been made. (I have no idea). And I personally would prefer to make a dish that''s interesting, a little challenging, and not overly-vegetarianish. (you know what I mean.) It doesn''t have to be a main dish, and I don''t think the theme is very christmasy, just festive. So far I''ve come up with a traditional french quiche for breakfast/lunch because I''m fairly talented at baked goods and crusts and I believe quiche kinda qualifies.
er. Festive vegetarian comfort food fit for company/in-laws that can be made ahead? Does Anyone have any ideas? Please??