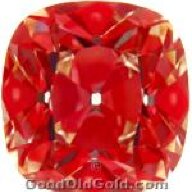 Joined

Aug 16, 2011
Messages

124
Re: HELP: Need to pick between

GOG

AVC and ERD "Custom" Cush

Thats the point of a vintage cushion look though, no? Big bold chunkiness and bigger flashes of light as opposed to smaller, faster scintillation...

I think the AVC line pulls this off extremely well. I think this is especially useful on a smaller ct weight stone where because of the size, you're talking about even

smaller

facets and reflections on different cuts. I feel like those bigger facets and flashes would give a smaller stone a bigger 'presence'.

That said, both stones look very, very nice! I think that AVC you chose is going to be stunning. PLease post pics when you get the ring!