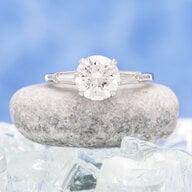 Joined

Jun 15, 2015
Messages

3,441
Hey lovely sparkle fairies! You seem to scour the Internet and turn up the most beautiful rings! I am wondering if I could trouble you to use your powers once again, for my mother's thirtieth anniversary bling!
The mission, should you chose to accept it, is to find a three-row diamond band. Round stones. Good enough quality for maximum sparkle! Price is ideally $1000-1500 CAD. She loved the ring at jewels by grace but it's a bit out of price range. Any ideas of where I should look? She's petite and needs the ring to be size five, and has a preference for white metals.
Thank you in advance for any ideas you find for her!