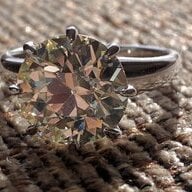 Joined

Apr 14, 2015
Messages

263
I have searched for a big with some warmth stone on pricescope and this one seems check all box.
It is M, VS1 with strong blue Fluorescence. I asked the vendor and they said there is no hazy and milky.
HCA is 1.8(EX), EX, VG, VG, VG. Is it good enough?
GIA VG, EX, EX. Apparently not 3EX
I noticed that there are crystal and have asked the vendor about it. Have not heard from them regards this. At VS1, do I need to concern whether its eye-clean?
Could you diamond expert offer any suggestions? Is there anything else I should pay attention? Thanks!
Here is a pic and GIA report from vendor.