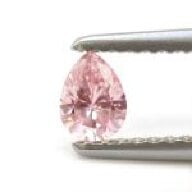 Joined

Apr 12, 2011
Messages

654
I bought a teeny .21 carat pink diamond (here's the thread
https://www.pricescope.com/communit...hoosing-between-2-fancy-pink-diamonds.160744/
and it has pictures) and it's jaw-droppingly beautiful

It's also jaw-droppingly teeny
I don't want something super diminutive at this point so I am considering a double halo for it in rose gold, with white diamonds.
I am thinking of something like what Pricescope LovingDiamonds has (same head as her diamond is similar to mine dimensions wise) :
How much do you think I will end up spending on the setting? I have asked Sally from Heart of Water for a quote. (I would not be shipping my pink to her though).
Ideas to enhance finger coverage and boost pinkness please