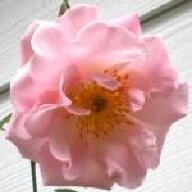 Joined

May 23, 2012
Messages

3,943
I purchased an unheated 1.1 ct ruby from OTL (thank you!!). Here is her description from LT:
"1.1ct no heat 100% natural ruby. With the best fluorescence under sunlight I've seen. The color of this ruby is intense red with slightly purplish undertone. Super strong saturation and it fluos under natural sunlight. Color wise definitely the best ruby I've own.
It has 2 or 3 tiny tiny black dots that can be seen under 10x loupe or if you watch very closely that is not distracting at all. Very sparkly ruby not hazy or sleepy at all. Crystal glassy.
6.98*4.63*3.56mm. AIGS certified no heat. Real stone much more pretty than photo."
Her description is accurate and I really love this stone. I like my reds to tend purple/pink as opposed to orange so it's a perfect fit for me.
I almost had it set in a bezel pendant but then realized I really wanted to look at it all day.
I'm really loving the idea of setting it in a Jewels by Grace two stone bangle with a diamond. I have two sons and their birthstones are diamond and ruby so I find the symbolism very meaningful. I also love wearing bangles and think I would wear this a few times a week at least. I have a 1.5ct diamond bangle by
Whiteflash
that I love to wear that I think it would work well with (the
WF
bangle hasn't scratched my watch at all so I think it would be fine). I also love that it would be a substantial piece. I have finally learned that I'm definitely one for having a few really high quality items that I wear daily as opposed to lots of more fun stuff. This feels like it would be a piece I would treasure for a long time.
The cons for this are that I would have to purchase a pretty sizable diamond so I'd need to save for a bit. And I wonder if the design will look outdated in a few years. I really love the look, so I think I'd continue to enjoy it in the future. And of course I could always reset if needed. The cost of the setting looks to be around $600 so not too bad. The final con is that the ruby would be bezeled. I adore bezels (definitely my preference over prongs most of the time) but do you think it would negatively impact the color of the ruby?
I would want the piece to be in white gold since all my other pieces are platinum. If I go this route, should I bezel the ruby in yellow gold and have the rest of the piece WG? Maybe do a double bezel on the ruby with YG on the inside? Or just stick with all white gold?
And what size and shape diamond would look best on the other side? My engagement ring is a sapphire three stone with all round stones. I really love MRB so it's tempting to go this way. But would an oval of the same dimensions be prettier? Grace does these bangles with both matching stones and different shapes. I love them both but since I'd be using different kinds of stones should I keep the shapes constant?
I welcome input!!