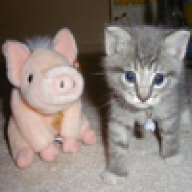 Joined

Nov 28, 2006
Messages

220
I finally worked up the nerve to ask my husband for a diamond ring. It''ll be our first diamond purchase. It''ll replace a colored e-ring, which will be converted into a pendant. That stone is too large for every day wear. At the time a large colored stone seemed like an ideal alternative to the diamonds we could not afford. Now that $ is no object, I''ve decided I want a .5 carat diamond set like this:
http://www.
bluenile
.com/product_details.asp?oid=3480&page=1&filter_id=1&col=1&row=5&pos=13&set_shape=
Or any bezel platinum setting, although I haven''t seen them other places. I know it''s not a very popular style right now, but I like it. What I like is that it almost looks like a wedding ring with a diamond set in it. I don''t want to attract too much attention because I had bad experiences with people thinking my colored ring cost as much as a car because it was big. I''m now a firm believer in small, but high quality.
My questions: I was told that no one can tell the difference between a D and a F. Is this true? I want it to look colorless to the untrained eye, but, at the same time, get the best value possible.
What are the chances a vs2 would have visible inclusions? Would it make a difference to go to a vs1? I know a lot of people have objections to
bluenile
''s drop-ship operations, but my husband is comfortable with their site and the B&M stores around us charge tiffany-esque prices.
A jeweler once told me that prices fluctuate by season. They are most expensive in winter through valentine''s, go down in the spring, and pick up again by September. Is there any truth to this?
Has anyone bought a diamond from
bluenile
? Should I be worried that I won''t get a good product because we''re buying sight unseen?