Hey guys/gals. Thanks for all the help in my choosing a stone. I ended up with a 1.4c J SI1 (eye-clean) H&A round cut from
James Allen
. Now I need to find the perfect setting for it, which believe it or not is seemingly more difficult than finding the stone was. I'm looking for something 18k white gold, or platinum (or what's this palladium stuff nowadays?). Anyways, suggestions would be very much appreciated.
I saw this one from Scott Kay which I liked, but I don't see how it costs so much (almost $3k!).
http://www.topdiamondusa.com/engagement-rings/Scott-Kay-Paved-Round-Engagement-Ring-M1643R310-p-19216.aspx
Pic: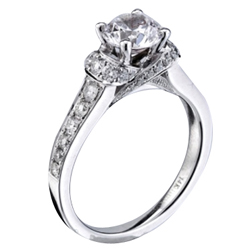 Does anyone know of similar style settings or can anyone suggest something? Any help would be very much appreciated. TIA!