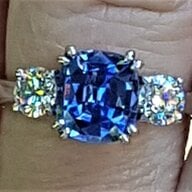 Joined

Apr 5, 2012
Messages

986
Hi all
I have this beautiful 1.14ct JVS1 emerald cut diamond with med blue fluorescence.
Other specs:
Polish Excellent
Symmetry Excellent
Fluorescence Medium blue
Table % 62%
Depth % 65.9%
Culet None
Girdle Thin to Medium
LxW Ratio 1.18
Measurements 6.52mm x 5.51mm x 3.63mm
It has lovely clipped corners and a great step pattern. I had originally planned to put it in a white gold halo which would accentuate the clipped corners and the octagonal shape like this kind of thing:
I really like the idea of playing up the outline shape and the size of the diamond with the addition of a halo.
BUT........
I don't want to set the diamond into a setting which will highlight its slight J color tint.

Considering I am used to F/G color diamonds I dont notice too much difference with this J diamond in most lights. Its a very bright stone and returns loads of white and colored light, plus the blue fluoro makes it face up nice and white in daylight but in some lights I can notice a slight off-white tint. Obviously if I set it as a solitaire this avoids the problem of other more colorless accent diamonds in the setting making it look tinted in comparison. But I want something with more presence than a solitaire. So I'm in a dilemma - to halo or not to halo?
Is there a way of haloing the diamond without playing up the creamy color of the centre diamond? Would lower color melee help? Or an airline? Or a halo without any melee (not sure what this would look like)?? I even wondered whether a dainty halo of black diamonds in black rhodium would work?
To make it even more challenging I am trying to keep the budget as possible down on the setting.

I like clean lines (no engraving and preferably no miligrain). And I'm thinking of double claws rather than bezel setting to maximise light play. Although I wouldnt rule out a bezel if it would solve the other issues
Can anyone give me some setting suggestions?