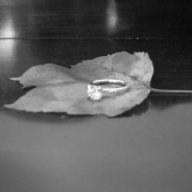 Joined

Feb 14, 2009
Messages

34
Hey everyone! I need some help finding a stone. My older sister''s boyfriend asked my parents for her hand in marriage and my mom gave him an antique setting that was passed down to her from her mom. His mother gave him a stone and he went to a local jeweler to have it re-sized and set. Poor guy! They called him back and gently let him know that it was not a real diamond. He is soo embarrassed

(and I bet upset with his Mother!).
He wants to get her .75c. I''m pretty new to PS, so all the help I can pass on to him would be greatly appreciated! I advised him to get an ideal cut (I have a H&A''s and love it!) and I think if he stayed in the near colorless range and eye-clean it will be beautiful no matter what the size!
What do you think is feasible for under $2k? Of course the cheaper the better and the bigger the better, but when you want an ideal cut something has to give!
Thanks in advance!