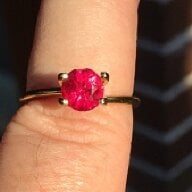 Joined

Dec 3, 2008
Messages

958
As the title says, I'm looking for a red spinel. I would like a really true red, not orangish or pinkish, and not too dark. I'm thinking maybe a 1.5 to 2 carat stone. I'm not too picky about shape. Round, oval, cushion or something else. I just really don't know where to start. Should I be looking for some sort of certification? How much should I expect to pay? I could probably budget up to $4,000. Does that seem like a large enough budget?

I would not be opposed to ruby, either, but I think that a ruby would be more expensive with all other things being equal. Am I right about that?

I saw a beautiful 1.5 carat spinel tonight at a jewelry store. I think it is the first time I ever saw a spinel in person. The color and clarity seemed nice, but I wasn't sure what to look for. It was already set in a ring.