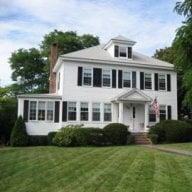 Joined

Nov 19, 2006
Messages

1,286
In an earlier post I wrote about my stolen tanzanite ring that I have been looking to replace with a sapphire ring. It was a cushiony-oval shape with diamond sidestones.
https://www.pricescope.com/community/threads/my-tanzanite-diamond-ring-now-lost-forever.55048/
The issue I am having is something I am noticing in a sapphire I am considering buying, but I also noticed it in my old tanzanite as well, so it is not entirely new. The sapphire is a 7x5mm cushion cut, that I would set N-S in a ring.
What I notice, when I look at the stone set down on my hand, is that a portion of the top half of the stone looks dark - say from the 50% point to perhaps 70-75% up the stone. The rest of the stone looks really sparkly except for this "line" across it. It is not an inclusion or something inside the stone, but it has something to do with light just not coming through at that point. If I flip the stone over 180 degrees, it has the same effect, again on the top portion the stone. The bottom "half," no matter the orientation, is very sparkly.
Is it unreasonable to think that every part of the sapphire will be sparkly from top down view? Is this some sort of sapphire version of the bow-tie effect? I tried looking it up in the forums, but didn''t find anything on bow-ties for colored stones (or cushions for that matter)
Other than this I really love the color and everything else about the stone. Hoping the color stone experts will chime in...
PS I tried to take a photo, but there is no way I can capture it with my skills/camera