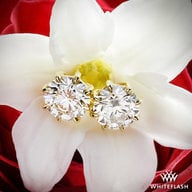 Joined

Apr 9, 2007
Messages

2,264
I''m new to posting here--although I''ve read lots and lots of postings! Anyway, here''s my dilemma (it may not seem like a dilemma to many of you--it may be very clear cut!)... I am getting ready to reset my center stone (3/4 carat princess cut) into a new platinum setting. I have white gold now and hate it. I''ve found 2 different e-ring/wedding band matching sets that I like. They''re pretty similar in style. One vendor is a local, well known retail store - Jared. The other is a Gottlieb & Sons set that I would order from a place I found online - Soloman Brothers. I''m trying to decide between the two. I know Gottlieb & Sons makes excellent quality stuff. Here are the pluses/minuses. I''d appreciate any feedback, suggestions, etc! (good or bad feedback on either option is fine!) I''m just nervous about the "no returns on custom orders" rule that I''d be chancing online... By the way, I have seen the Gottlieb & Sons set in person in a local store but their price is ridiculous.

thanks all of you!

Gottlieb & Sons set:
1 carat total in the 2 rings (5 more stones than other set)
12 stones in the e-ring
14 stones in the band
VS2/SI1 (higher clarity)
Color G/H (better color grade)
3-4 weeks to make
$1000 down, the rest when it comes in.
I''d send them my ring when the setting came in.
They''d set my stone for free.
No tax.
No shipping fees--fed ex to me.
No returns or exchanges on custom rings.

Jared set:
1 carat total (5 less stones that are slightly larger - 1/10 carat or less each)
10 stones in e-ring
11 stones in band
SI2/I1 (lower clarity)
Color H (lower color grade)
They''d need to resize current set they have in stock, change the head to princess.
They said they could order a new set in my size and I could wear the other until the new ones came in.
They''ll charge me $305 to change the head from round to princess and to set my stone.
The price on this set is $337 more than the Gottlieb set.