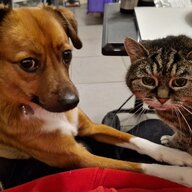 Joined

Jul 7, 2013
Messages

8,353
Thank for sharing your pieces—they are luscious!

I remember your wish for blue Tahitians! I was looking for a small blue strand of Tahitians but have kind of given up. Most I saw were either too inky/dark or more green or gray than true blue. Good luck in your search!
Thanks for that. Jeremy at PP said it should not be too difficult as my budget for the strand was quite healthy when I met him in person in LA back in 2016, just need to give him some advance notice.
Good luck with your purchase, whatever you decide.
DK