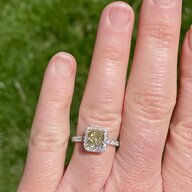 Joined

Feb 26, 2021
Messages

42
I just bought my first pair of diamond studs (ever!) and I need help. I know that so many of the members of this forum are experts at judging diamonds and would love your opinions! I don't have access to all the tools at your disposal like HCA, ASET etc.
Also, these diamonds are very pretty to me but wondering if warmer diamonds would be more flattering on fair/warm skin?
Details below and trying to upload a photo...
Diamond 1
HPHT
IGI LG470145293
1.10 D SI1, Ideal cut
| | |
| --- | --- |
| Polish | EXCELLENT​ |
| Symmetry | EXCELLENT​ |
| Measurements | 6.73 - 6.76 x 3.97 mm​ |
| Table Size | 59.5%​ |
| Crown Height | 13% - 32.9°​ |
| Pavilion Depth | 42% - 40.1°​ |
| Girdle Thickness | MEDIUM (FACETED)​ |
| Culet | POINTED​ |
| Total Depth | 58.8%​ |
| Fluorescence | NONE​ |
Diamond 2
HPHT
IGI LG470145290
1.09 D SI,1 Ideal cut
| | |
| --- | --- |
| Additional Grading Information | |
| Polish | EXCELLENT​ |
| Symmetry | EXCELLENT​ |
| Measurements | 6.70 - 6.73 x 3.99 mm​ |
| Table Size | 59%​ |
| Crown Height | 13% - 32.9°​ |
| Pavilion Depth | 43% - 40.6°​ |
| Girdle Thickness | THIN TO MEDIUM (FACETED)​ |
| Culet | POINTED​ |
| Total Depth | 59.4%​ |
| Fluorescence | NONE​ |