I recently purchased a two-tone platinum and gold 6mm wedding band, but the seller has absolutely no information regarding the origin of the hallmark. Research has led me to a couple of forums suggesting that the hallmark may be one of Walter Lampl's, but the ring does not look nearly old enough to be one of his works, and I have seen no record connecting this particular "WL" mark with any of his work.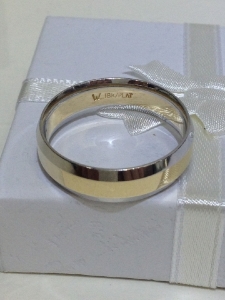 The closest I've been able to come to figuring out anything regarding the origin of this ring is that E-WeddingBands appears to have the exact same style of ring on their website, right down to the bevel, width and comfort fit.
http://www.e-weddingbands.com/store/plat5793.html
Does anyone have knowledge regarding the origin of this mark, or at least a band from E-WeddingBands that doesn't have the same mark so that I can start looking elsewhere?