Joined

Jul 28, 2011
Messages

9
I'm finally prepared to buy an e-ring and pop the question. I've been lurking here for a few months and this is the certainly best site on the web for learning about diamonds. I know it's a bit backwards but I found a setting with a look I really like and have narrowed it down to 2 stones.
The setting is basically a Gina solitaire by Leon pictured
here
. Ideally I'd like to get a 2ct I VS2 antique or old mine cushion for the center stone. Also, I'd want to use less micropave to get a more understated look as my GF is more of a elegant simplicity kind of girl.
If I have Leon make the ring I have to drop down to a 2ct J SI1 (eye clean) AGS cushion brilliant in order to stay in budget.
I've also been talking with ERD and they've found a 2ct I VS1 GIA cushion brilliant for me that's clearly a better stone (but more expensive) and will make the setting for about half as much so that I'm still in budget. They say that they can recreate the graceful look, gentle curves, and delicate prongs of the setting that I like... but honestly, I'm skeptical based on what I've read here.
Buying the ERD stone and having Leon set it isn't an option as I'm already stretching the budget (plus, I've read that they don't play nice with each other).
I have both stones on hold but I'm probably going to pull the trigger and sign papers and such by the end of the week.
I'm unsure of the tradeoffs between a Leon vs ERD setting considering I already know the kind of design I want. If I don't need Leon to use his artistic talent to make up something new for me can I get the same look going with ERD? Is there a notable difference in craftsmanship or materials? Will a simple layperson who isn't a jewelry aficionado be able to tell the difference?
So this is my question… what would you do?
Stats for the two stones below:
2.02-J-SI1 (AGS)
Table: 53.1%
Depth: 68.9%
Polish: Ex
Sym: VG
Fluor: N
Video:
http://www.youtube.com/user/artofplatinum#p/a/u/1/Gfns3BWOiYM
No ASET or still image available.
Notes: I believe this would be an Old Mine if it were GIA since it has three of the four requisite
criteria
. The elongated look should work well in the setting going with. The large feather visible under the maltese cross in table (approx 6 o'clock) worries me but I'm told that it's eye clean. Do you think it would be visible without a loop? I've been looking at it under magnification so long that it seems huge and jumps out at me.
2.06-I-VS1 (GIA)
Table: 57%
Depth: 68.3%
Polish: VG
Sym: G
Fluor: N
Video:
http://www.youtube.com/user/xristoserd2011?feature=mhee#p/u/0/-L81U7WAD_s
Image: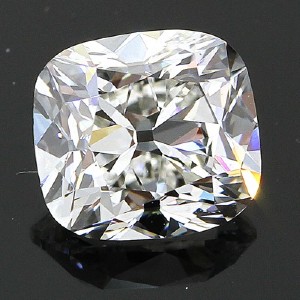 ASET: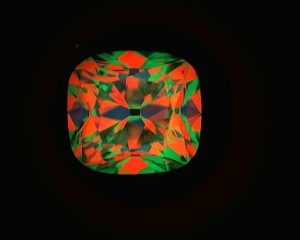 Notes: This stone looks better out of the gate. The one exception is that I don't see a maltese cross (I doubt my GF will care but I kinda like them). The ASET looks good but not great to my inexperienced eyes. The GIA report is from 3 years ago so this looks like a recycled stone but it looks good in the video as far as I can tell.
Just as an aside, I've been very impressed with the customer service I've received from Chris at ERD. Out of all of the vendors I've dealt with, he's provided the best customer experience by far. Not that anyone else was lacking, mind you… they were just outshone by Chris. Even if I don't end up going with ERD for this purchase, I'll probably buy from them in the future.