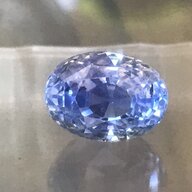 Joined

Jul 14, 2020
Messages

85
I inherited a rings from my mother when she passed. It's not old or super sentimental but does remind me of her.
I wear it on my right hand 24/7 even though I don't love the design.
while it had potential it's just clumsily made in my opinion.
My engagement ring in my left hand is white gold antique style so they couldn't be more different in style.
I told myself it's an X like a *kiss* and have kept it the way it is for the last eight years since she passed.
I have been wanting to change it for awhile now but don't know where to start.
it has six diamonds which slightly graduate in size and nine rubies.
It came from HongKong on a shopping trip. The workmanship is not good.
While I could have the ring remade in white gold I'm not sure that will do the stones any justice or change the whole modern vs antique I have going on.
Having it remade into a wedding band to fit with my engagement ring would be great but that is a whole other problem (designing a wedding band that doesn't cover up the profile of my ring).
I don't have any large stones that I like that I could use aa a centre (Only a very light aqua marine which is its own problem *sigh* (can't be worn as it's set in silver that turns black on me).
Or an 8ct Sapphire that is way too big for a ring.
But I would be willing to consider buying one - either diamond or ruby if that was the solution.
BIG sorry for it not being clean - I wear it every day - and it shows.
Please help this ugly duckling become a beautiful swan!