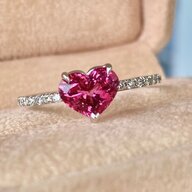 Joined

Feb 2, 2021
Messages

104
Personally I would choose the white diamonds as I like the contrast. But the alternative, I agree, would be matching spinel melee or whichever colour undertone it shows - would make for a fun complimentary play on colour.

Edited to say - setting it in white metal would bring down the contrast of diamond melee but up the sparkle factor
What do you think of setting in black rhodium?
Thank you!

BTW, when I looked at it the first time there was no other indication of interest. When I just went back to get it two other people had it in their carts! I *think* I just bought it (according to the confirmation from Etsy and the notification I just got from AmEx, so I hope that's true) and I'll let you know when it comes.

Threadjack over!!!!!
No worries and can't wait to see it!
People will absolutely lurk on here and snipe gems that have been discussed. Not PSers cos we have etiquette but lurkers who don't want to do the work of hunting their own gems.

@emegumi

, that's why you're recommended to put a hold on the gem you are are considering or at least enter in communication with the seller so they don't sell it.
Ahhh that's good to know. I put 3 on hold with gemcal until I can get videos!! He seems very nice. The Instagram sellers will post videos they send me right to their stories if I don't buy immediately