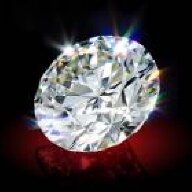 Joined

Nov 4, 2016
Messages

26
After a nightmare with the jeweller I'm with, I returned a stone and bought a new one from online (Stone B: 1.19 carat). They recommended the stone in Column C.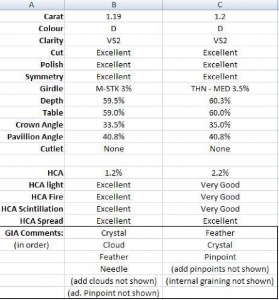 The stone I purchased seems fine, but it had a shallow crown angle (33.5), but a great HCA score. The jewellers say that upon seeing the stone, it's "
milky
" (what does that even mean? It's a VS2, D colour - surely the milkiness will have no impact on brilliance and sparkle). And she decided to put in the 1.20 carat stone instead. I was obviously a little furious when I found out, but she explained she did it for my benefit.
The stone the jewellers recommend have an HCA score of 2.2 (my stone was 1.2). Additionally, the new stones GIA certificate suggests there is
Internal Graining
. But there are no
'Clouds'
in the stone that they think is better.
Most of the dimensions are the same; but the one has a crown angle of 33.5 and the one they suggest has a steeper one of
35
(both with pavillion angle of 40.8, and both VS2 D colour and almost same Carat, GIA triple ex.).
How would these different crown angles affect the diamond brightness/scintillation/fire.
Please help, I'm not sure whether they are genuinely trying to sell me a better stone, or sell me a stone that is more flawed than my selection (thereby saving themselves some money).
PS. I am not able to view either stone yet. I have to act hastily as time is of the essence here.