Hi all,
New user here looking for some "expert" advice on chosing the right stone for my girlfriend. She likes the cushion brilliant (not modifed) stones and has already "blessed" a 2.01 ct I/Si1 but I was hoping to surprise her with something a little bigger, a 2.51 ct cushion brilliant of the same exact color and clarity. I've seen both stones in person and they are both stunning with the nakes eye, however the 2.51 has more inclusions that you can notice with the magnifying glass.
I uploaded the GIA certificates for both and just looking for some advice on which stone is more "recomended". Assume that they are priced the same per carat. I am strictly interested in opinions regarding the inclusions as well as the other attributes included in the GIA reports.
Thank you in advance!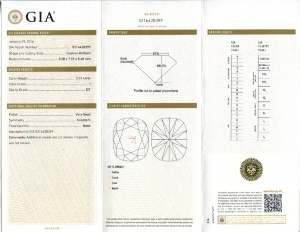 [edit] for some reason I can't seem to be able to upload the other GIA certificate. The only options that shows up is this but can't see to replace that with the 2.01