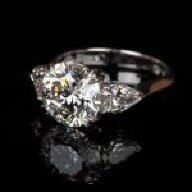 Joined

Feb 18, 2013
Messages

570
Hi PSers!

I have finally decided to do an e-ring reset into a solitaire. I can't believe I never considered a solitaire when I upgraded my diamond 3 years ago! I like how the diamond really pops in a solitaire and I really want a wedding band (or 2, lol!) for a change. I have never had one in 15 years of marriage and 3 e-rings! Thanks to beautiful rings posted here, I believe I have narrowed it down to a couple styles. I have a few questions on one of them that I could use help with. My diamond is a 3.25ct round, color I, 9.5mm for reference (my avatar).
The things that are very important to me:
Diamond ~2mm above finger, so ~8mm height (no lower and 8 1/2mm tops!)
Plain shank with no taper from top view, 2mm width minimum
Claw prongs
Flush fit or minimal gap with wedding band
Curvy basket with soft lines
Mayk's beautiful VC ring is my inspiration as well as Brilliantly Engaged the "Adrienne", both with a plain shank. My absolute favorite element is the curved struts, kind of like a margarita glass or a flower blooming around the diamond.
Would double claw prongs look ok with this ring style or stick to single claw? I love my SK double claw prongs!!!
Which vendor can best execute this style? Obviously VC!!! But, any other vendors I should consider? I am strongly leaning toward hand forged right now. I have not seen a ring by SK that is similar but he probably could do it? Any others?
Here is Mayk's ring (Mayk – Good luck selling this beauty! Hope you don't mind me posting a picture of your ring).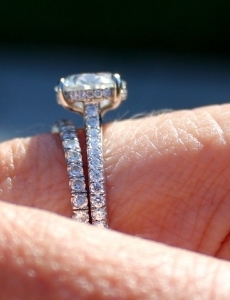 Here is Adrienne by BE.