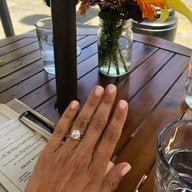 Joined

Aug 27, 2011
Messages

290
I haven't been on PS too long, so I will candidly inform you all that I am slightly neurotic.
That being said, I caught a glimpse of the glamor shots of my ring...and by caught a glimpse I mean saved on my computer and have been admiring for days (I am not allowed to see the ring until the actual proposal which could be a few months from now)...and I JUST noticed a cluster of "things" in the bottom left edge of the stone that look a lot like the inclusions on the (coincidentally) left edge of the clarity plot. So clearly I am now freaking out. The thing is, I thought the inclusions were listed in order, and so I thought the grade making inclusion was twinning wisps (bc that is listed first), so I figured the crystals, feathers, or clouds at one edge of the diamond (according to the report) would be less severe and therefore less noticeable etc. I don't think I see the wisps in the photo, but I'm concerned about the area I have circled in red.
I was just wondering if anyone knew if the glamor shots were indicative of real life clarity - or if they show the stone in a "better" light (eg hide flaws) or a worse light (eg magnify flaws). Do any of you have an opinion as to the (presumable) inclusions circled in red will be visible in real life? The clarity grade is S1. It is supposed to be "eye clean", but I knowww that everyone's opinions are different.
I know my boyfriend is going to look at it while still in the return period and decide whether HE thinks it's eye clean...and possibly take ti to our appraiser for a professional opinion of eye cleanness (cleanliness?)...but I was just wondering what people on here thought
. Your opinions would be greatly appreciated!