Smart PS colored-stone and jewelry experts -- I need your help and good taste!
My sister inherited this lovely 18K YG bracelet -- it has V-shaped links and is florentined on the outside. It was purchased (and made?) in Istanbul c1960 or so. It's 6 1/2 in long (usable length) and ~ 3/4 in wide and it's pretty substantial. It's made to be worn fairly snug and sister needs to add ~ 1 in of length. I initially wanted to add an
extender
but after looking at the very complicated clasp -- tongue and receiver plus two safety clasps -- I think the best bet is to keep the clasp mechanism intact and (eek) split the bracelet and create a focal point in the center with a bezel-set colored stone. (We have some extra material [bottom picture] from when it was originally sized down -- but there's no easy way to add that back and it's still not enough length.)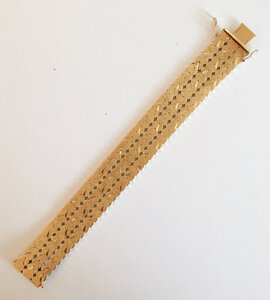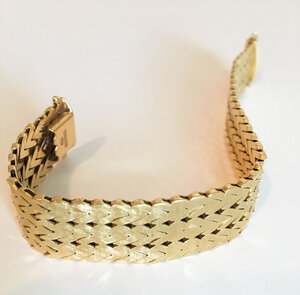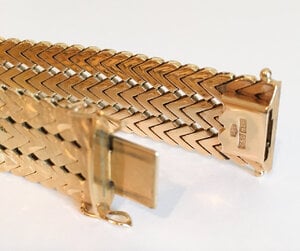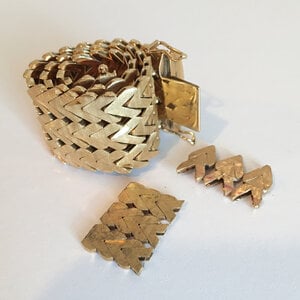 The only 3/4-inch (18 mm) colored stone either of us can afford (!) is a tourmaline and she loves blue-green. So I was thinking of something like this: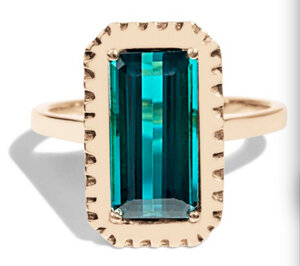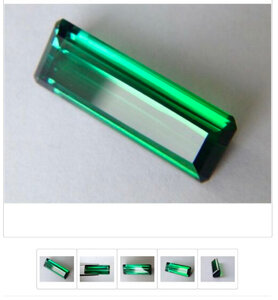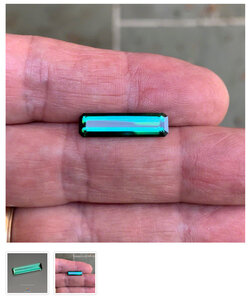 I'm not sure how to get an inch of real estate out of this -- I guess a halo or something. A wider tourmaline would be too "deep," probably (and too spendy).
I just think a columnar-looking blue-green tourmaline would look so cool on that bracelet.
Opinions on: 1) how that might look; 2) how to stretch my "concept" to add an inch of length; 3) other things to add an inch while creating a blue-green stone as the focal point of the bracelet...or any thing else you can think of!
The work will obviously cost more than the bracelet is worth -- but it has an amazing amount of sentimental value and I'd love for my sister to be able to wear it.
Thank you!