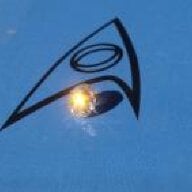 Joined

Apr 21, 2010
Messages

1,331
My stepmom was cleaning out her jewellery box recently and decided that this should live with me!

This belonged to my paternal great (-great?)-grandmother. She loved bling and sparkle, irrefutable evidence that this illness is genetic!

The pendant is silver and the diamonds are not very good, some have eye-visible flaws and some are blindingly white while others are a bit brown. They're all a mixmatch of cuts - some are rose cuts, some omc and others oec - so my stepmom suspects that the pendant is an amalgamation of several pieces of jewellery.
I love it even because of the story behind it but I am not sure if I will ever wear it. It's quite large and looks rather like costume jewellery.
I was also given a beautiful antique yellow gold emerald and dendritic agate brooch/pendant but I'm not sure if that would appeal to PS?
Terrible cell phone pictures, I know, but it is winter here in South Africa and dreadfully overcast. If anyone is interested I will take some more when the sun comes out.