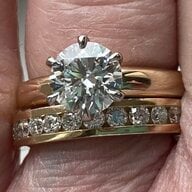 Joined

Feb 27, 2007
Messages

26,069
Hi Kids!
Dee Jay, I am so glad you have BR back and it smells good. Yay! Vroom vroom. Was you Audi jealous?
Like you said, is our weather ever safe? I usually plant on June 5 and I'm not sure it's safe then. I'll probably wait.
I know my idea of roughing it in 2023 is probably a day at the luxury spa for those pioneer women.
Nice you won another auction. I can imagine how many glasses you must have in your house.
Good news. I got an email my diamonds cleared verification so my earrings may ship tomorrow. That would be AWESOME! See, I cried and whined for nothing.
I worked as well and put in another 9 hour day. I've mastered quick fixes on videos anyway. Yay. Podcast #3 is posted.
Marty had a strange day - his company is talking to his old company. He met some of them for a meeting and then went on site. He put on real work clothes. I asked if he wanted me to take a picture of him all dressed up for work.

I guess everyone he saw asked about me. He told them I was the worst retired person he knows since I'm working again.
Laters,
Curby