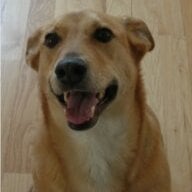 Joined

Mar 26, 2006
Messages

13,379
Happy Saturday kids!

Curby, I think if we went over all the possible germy scenarios in our minds we'd just have to crawl under the bed and hope to die quickly...

Last night TR and I ended up sleeping on the couch. We fell asleep watching TV and never made it upstairs. At one point I managed to turn off the TV (no small feat since I don't think I've ever even looked at the remote before), put the dogs in their crate, and climbed BACK on the couch, grabbing a blanket along the way. Frankly it may have been easier to just walk upstairs at that point, but I hadn't put the comforter back in the duvet from when I washed it yesterday and I certainly wasn't dealing with THAT in the middle of the night!

The auction TR wanted to go to was canceled (no surprise there!) so we made a quick trip into the city since I haven't been there for 9 days and likely won't be back again for several more weeks. It's verrrrrrry quiet downtown.

TR is outside "digging a hole." No idea what for, and I really have no intention of asking, LOL. I'm seriously contemplate a nap...