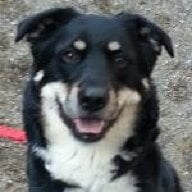 Joined

Apr 27, 2007
Messages

1,576
Dee*Jay-that's crazy!!! Make him move to the garage! We were talking to a neighbor today while we were taking a walk (she was in her yard and we were in the road, more than 6 ft away). She said she had to go grocery shopping today, so she went really early. Our stores are only allowed 2 people per 1000 sq ft, and the aisles are marked for one-way shopping. There were tape marks on the floor for distancing and signs everywhere. She said she kept having to turn around and give the person behind her the evil eye until she finally turned and said "back the BLEEP off! Some people just do not get it.

Marcy-I am still a wimp, but one thing I can do now that I couldn't do a year ago is squat and get back up and get up from sitting in the floor with no help. And I've been walking so much, my leg no longer jiggles when I stomp my foot. Haha! Baby steps! I'd love to work on upper body strength. Good idea to put earrings in. I think I'll be all fancy tomorrow and out on rings and wear earrings. ooh la la! I hope your foot continues to get better.

I don't think what Matt's company did was on the up and up. This week they changed them from salaried employees to hourly employees, and told them they could bill no more than 32 hours even if they have work and a project to bill to. They can use vacation pay to get them to 39 hours, but not 40. I wonder if that's even legal. The last time this happened in 2009, Matt was lead on a big project working 50 hours a week and charging 32. He swears he's not doing that again. I hope not, because I plan to make him a honey-do list! I'm going to bed early tonight. I didn't sleep well last night with all those storms. We had a tree on the hill behind our house fall, and there were big hunks of tree very close to the back of our house this morning. We were very lucky nothing came through a window. Somehow Matt slept through everything. Goodnight!