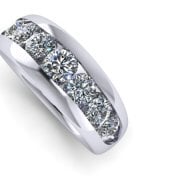 Joined

Dec 28, 2005
Messages

4,097
Hey.......I''m in Maryland with my folks. My flight was uneventful, as one would hope for. It was on time too. My nephew picked me up and drove me to my folks. It was great being with him. He''s 17 and has become somewhat successful modeling. For those of you who see UnderArmor clothes at the gym, he''ll be doing a photo shoot for them soon. I told him he needs to become really rich and famous so he can take care of his "old" uncles......LOL

It''s pretty warm here. Not Florida warm, but hot sticky, muggy, no breeze Maryland in the summer warm. I had forgotten how sticky it can get up here. I spoke with Charlie a while ago and he said we had big thunderstorms in Tampa and it''s now nice and cool. He may go sit under the oak and have coffee later.

We had crabs for dinner. They were so so so good. I do so love Maryland steamed crabs. It was a nice treat. We''re going to have some tomorrow and Sunday too.

No fitness planned for the weekend and my folks are all about eating, so I''m hoping I don''t gain any weight. If I do, I''ll work it off when I''m back in Tampa.

My father''s internet connection is horrendously slow, so I won''t be here too often. Just wanted to pop in say hey and wish you all a nice weekend.