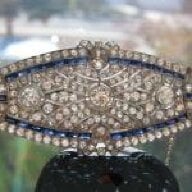 Joined

Nov 24, 2006
Messages

24,300
Yesterday I walked and my allergies were going nuts so I took a benedryl. I couldn't stay awake so I ended up taking a nap when we should have gone to dinner. Hubby is just a sweetie pie

and laid back and he was fine with us going out to eat today. We were suppose to go to the zoo with my family but it was too windy for us since our allergies are going nuts already so they went without us.
We went to this yummy Vietnamese Restaurant but the sad news is this place is closing next Sunday

I guess it is another sign of our economy which is a bummer; I pray things turn around soon for everyone. We were going to go see a movie after eating but the skies got dark and even more windy so we came home and just relaxed. I guess if it is too nutty I probably need to work out at the gym.
I am crossing my fingers and toes tomorrow that I don't need a root canal; I meet with the specialist tomorrow. Have a great rest of the weekend dear friends

LOL,
JEFF
about upsetting the wonder women. Awesome job doing boxing/Jujitsu; sounds like an awesome workout and lots of dedication!!!
KIMI
, sorry about the computer. Yay for being down to 127, awesome!
ZOE
, it is understandable you are feeling that way; I think it is hard for us not to feel a bit sad about the state of the economy. Hugs and prayers that your hubby finds work soon. I was reading that people who workout during this time helps their over all wellbeing so that is a good thing you are doing. Maybe buy a pretty new nail polish or bubble bath? I know that isn't going to solve things but just browsing Target without buying to many things is a fun pick me up.
TACORI
, yes friend! hehe Give Tessa a hug for me and I hope she feels better soon. Yay for your walk!!! Go Tacori go!!!
MARCY
, thanks for the bday wishes for Mr. Skipper. Oh no, I am so sorry about your tooth!! Did you get in to the dentist yet? Woo hoo to being a Motivator, you are!!!!!
ROD,
yay for sleeping in dear friend!!! I hope you slept longer this morning. Your market fresh sounds yummy; I wish we had a Market Fresh. We only have Whole Foods and Trader Joe's and the regular grocery stores.