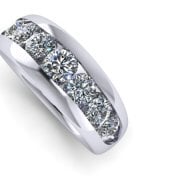 Joined

Dec 28, 2005
Messages

4,101
Hey.....man what a tough day. I''m working on a very difficult requirement and one my heart''s not into, but we do what we have to make a living. The position requires someone to go live in Iraq and manage the building of a hospital. I found a great candidate, but when he told me he had a wife and two young children, I just had to talk him out of even considering this option. I''d never be able to sleep at night if something happened to him over there and his wife and children never saw him again. Like I said, it''s tough out there. The money''s really good for someone willing to go, but so''s the danger. I was still in the office at 7, meaning I put in 11 hours today. At least I got to come home a nice dinner. Charlie baked pork chops and we had steamed veggies with them. Tomorrow''s an ''ueber'' Thursday, with the gym after work, but I''m looking forward to that. It''s literally the only place the world disappears and I just zone into doing something good for myself for a few hours.

Marcy, I remembered to wear green yesterday, so no one was able to pinch me........LOL Yay for staying in your calorie range!

Hey Burk, maybe your chip-fest after your workout was your body asking for a little replacement sodium! I sometimes find I want something a little salty after a workout myself. Still, you worked out and that''s a great thing.

SS........realizing that most of HH''s peer and friend group were co-workers makes it even harder for him. He''s lost his daytime family and that''s really really hard. So, I''m glad you''re being there for him, even if he might be a bit cranky.

Wow, two long walks today is great Skippy! Sounds like you had fun with your nephew, plus you burned more calories doing yard work too. You Go Girl!!

Tacori, it sounds like Tessa really enjoyed her 2nd ice cream experience! I''m going to have to resist pizza for a long while after managing to indulge twice in one week.

OK......Rod out for the night. I''ll check in tomorrow after my workout.......