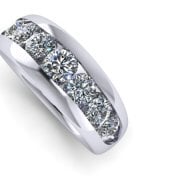 Joined

Dec 28, 2005
Messages

4,097
Hey, From MIA Rod........Sorry I''ve been absent. I just needed a break from pretty much everything and I''ve not felt 100% for a few days. I didn''t do much of anything over the weekend. Charlie was visiting his family in Buffalo, and I just didn''t really do anything. I didn''t sleep well either. I needed a break from the gym, so I didn''t really have much to say. Charlie''s flight home was delayed to the bad weather out there yesterday, so I didn''t sleep well again last night. Today, I was just a zombie and for the first time since I''ve been at my job, I left work early, came home and just took a nap. It was a dark, rainy, dreary day. The kind of day you just want to pull the covers over your head and not get out of bed. Well, aren''t I just a ray of sunshine......LOL I''m going to go to bed soon, do my best to get a really good night''s sleep and have an "uber" Wednesday, including the gym after work. CHarliehas to work tomorrow night, so that was one reason I decided to come home early and do the gym tomorrow instead.

Sorry for not saying hi to everyone individually. I did want to congratulate Lorelei on the new elliptical. WOO HOO!

Skippy, thank you so much for worrying about me and for writing me earlier. You''re such a sweetie!

bee* WOW WOW WOW on the weight loss. 31 Pounds?? You go girl!!

Welcome to our two new friends here, stepcutnut and BeachRunner.

And finally......Kimberly I''m so glad to see you''re back. I had asked where you were several times and just wanted you to know I too missed you!

OK.......I''ll check in tomorrow night after my workout.