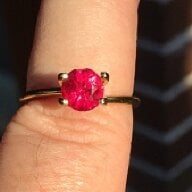 Joined

Dec 3, 2008
Messages

958
I posted earlier about two diamonds I was deciding between. I am pretty sure I am going to keep the
GOG
diamond, but I do have a question. The HCA score is Excellent for light return, fire and scintillation. But it is only very good for spread.
The numbers on
GOG
's website had some inaccuracies. Here are the numbers off the AGS cert:
54.4% crown
61.4% depth
33.7 degree crown
40.8 degree pavilion
A jewlery store told me the crown was a little small, and that that could make the diamond look a little smaller. I can't find the link now, but I think I remember Gary Halloway wrote that for good spread, a diamond should have a 56% crown, to... something I can't remember.
So I'm wondering if this diamond is what people refer to as "nearing steep/deep territory". I'm wondering if it is an excellent diamond, or only almost excellent, because of the spread. I'm also wondering why every diamond I've found through a search of pricescope's excellent cut diamond search scores only very good for spread. I mean, why are we paying a premium for a 1 ct. diamond if it's going to look a little smaller than that?