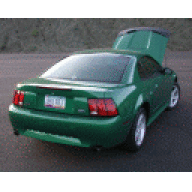 Joined

Oct 17, 2002
Messages

84
I was browsing the diamonds over at
goodoldgold
.com, and came across this guy.
http://www.
goodoldgold
.com/aaa5t_g_vs2.htm
It comes up with a score of 0.4 on the HCA, which I would think would place it very highly in the realm of purty diamonds. When looking at the diamond sim (very last image on that page), it gets only a 'medium' in white light return and only 'high' in scintillation.
The diamond located here:
http://www.
goodoldgold
.com/aaa7t_e_vs2_h&a.htm
Comes up with a 1.1 HCA score, which I would think is 'worse' than the 0.55ct stone linked at the top of this msg. Yet, the simulation on the bottom of the page of the 0.72ct diamond shows 'very high' white light return and higher scores in the other two. The simulation also looks much more breathtaking on this 0.72ct than on the 0.55ct linked at the top. How can the larger stone, with a poorer HCA score, give so much better light return than the technically superior smaller stone?