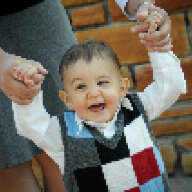 Joined

Jan 20, 2009
Messages

228
Hello all.
I am very undecided about this diamond, please tell me what you think. I tried plugging the numbers into the HCA, but it is telling me the girdle is too thin, but the description is SLTK-TK.
Round Brillian
.80
H color
SI2 clarity (it is truly eye clean, I saw it in person)
Table 59%
Depth 62.6
Cut: VG
Symm VG
Polish VG
Fluoro: Neg
Culet: None
Girdle: SLTK-TK
5.84x5.95x3.69
$2580.
What do you all think? I am so torn, I tried this on in my potential setting and this is the potential setting. She said that she will give me the setting, diamond and a plain WG 14K band for $3990, including tax. All stones in the band are VG/VG/VG H-I stones.
Do you think is this is a great deal? It is a touch out of my budget, but I darn near cried when I tried it on.
I am so lost, please just tell me what to do.
Thanks!