Hi All,
I've been going round and round (pun intended) trying to find the right diamond and have done my head in on research

I'm now not sure what to do
I'm trying to find a 2 carat (2 minimum) round diamond, SI1 eye clean, F colour, XXX GIA. It will be set in a 6 prong claw so I'm trying to avoid any significant inclusions in the middle of the table
I'm looking at finding something between 1 and 2.6 on HCA (maybe up to 3) but just want something that dazzles
My budget is around 22k max (ideallly more towards 20 but will stretch for right one)
I've looked on pricescope and after looking at many many diamonds i'm leaning towards
jamesallen
as they have detailed images (although you pay a bit more)
I found a diamond which I thought was excellent on
jamesallen
, ticked all the boxes, looked eyeclean. Found the same one on
Adiamor
for slightly cheaper and was going to purchase and decided to ask for a
Idealscope
image (first
idealscope
image I've seen) and from what I can tell in interpreting (white area is bad right? please correct me if i'm wrong), the
idealscope
is very very bad with lots of light leakage.
http://www.adiamor.com/Diamonds/F-SI1-Affinity-Cut-Round-Diamond/D33774556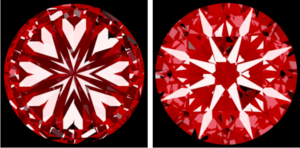 Now after this i'm unsure what my options are. I'm also hesitant to purchase on somewhere like
bluenile
or
b2c
where no
idealscope
images are available after this initial experience
Anyone provide some guidance?
A local jeweller recommended me to go for the full ring with them and sent me some GIA certificates that I found on
bluenile
and
b2c
, but I don't have much confidence as they told me to ignore technicalities behind
idealscope
/HCA and just go for one which is eyeclean and GIA
edit: according to this guide - this
idealscope
image is actually very good? Input?
http://jeweladmin.com/images/gallery/51/userfiles/images/education/precision5.jpg