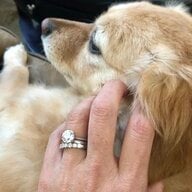 Joined

Mar 13, 2004
Messages

4,741
I've always believe Kim Kardshian's butt is natural while the rest of the world is saying she has butt implants....what woman would want to go up in dress size to accomodate that big round booty? Do you have something that people think is fake?

I'll start:
-I have had someone say, "Wow, that's a good looking CZ on your finger". He assumed it was fake because it's the biggest he's seen without obvious color (he really should visit PS).
-I have natural bronze highlights in my hair, and people always assume that I color my hair. I have an annoying aquaintence that asks about my hair EVERY time I see her!